Need A
Furnace Repair

Pro?
---
At Centroplex, your comfort matters. And when winter weather arrives in Central Texas, you'll need your heating system to be functioning at its best to stay warm through the winter. If you're experiencing problems with your furnace and heating system, make Centroplex your first call. We provide repairs and tune-ups to HVAC systems in residential and commercial spaces throughout Waco, Texas. Do you have a furnace that needs servicing? Ready to set up a regular maintenance plan with a trusted service provider? Our experienced, certified technicians are here to help in the McLennan County area.
Schedule Repair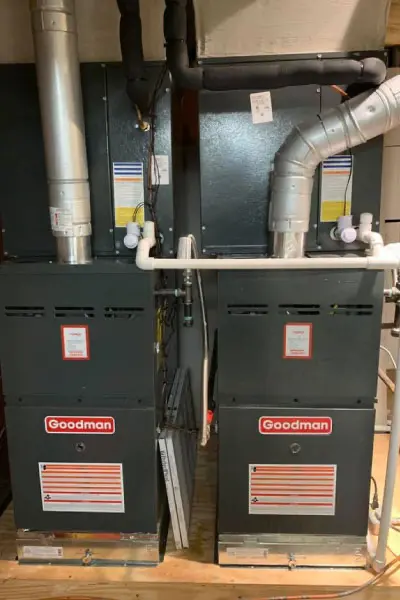 Ask Us About A
Maintenance Plan
---
What's the best way to avoid these problems and stay warm through Central Texas winters? Regular, annual maintenance on your furnace and heating system with Centroplex. Getting your HVAC system checked by our team of professionals is an easy way to save time, money, and stress on the maintenance of your furnace. Plus, we offer Maintenance Plans to help make it easier to get your furnace serviced consistently. If you're not sure when your furnace was last serviced, that means it's time to call your Waco, Texas heating professionals at Centroplex.
Contact Us
Four Reasons To Seek
Regular Maintenance

On Your Furnace

Getting your furnace tuned up at least once a year is an important part of maintaining your home's comfort. Having it tuned up by a local professional team like ours at Centroplex will ensure your system functions well for years to come. Not convinced you need regular maintenance on your HVAC system? Here are four great reasons to call Centroplex for regular furnace maintenance:
Improved Efficiency: Scheduling regular tune-ups for your furnace can help to make sure it is running as efficiently as possible. That way, your space stays comfortable all winter long, even when the temperatures in Waco start to drop. Plus, a more efficient HVAC system can significantly lower your energy bills and consumption.
Fewer Breakdowns: If you want to catch problems with your heating system before they interrupt your life, regular maintenance is the answer. Consistent furnace maintenance is a great way to keep your heating system running smoothly, which also means fewer breakdowns and less costly repairs in the future.
Longer System Lifespan: Regular furnace tune-ups will increase the overall lifespan of your heating system. When your HVAC systems are well-cared for and professionally maintained, you'll get many years of warmth out of them before you need to start thinking about a replacement.
Health & Safety: Getting regular tune-ups done on your furnace keeps the air in your residential or commercial space safer for you and the people in it. Unattended, poorly maintained furnaces could leak dangerous gasses or fluids — regular professional service can help you prevent that and stay safe.



Overall, getting your air conditioner tuned up at least once a year is a great way to keep your home comfortable and avoid costly repairs or replacements.