Furnace Installation & Replacement
In The McLennan County Area
---
Furnace installation and replacement in Waco, Texas is an important part of keeping your home comfortable through the fall and winter months. With the changing seasons, it's important to ensure that your furnace is functioning properly and efficiently. Luckily, Centroplex has you covered.
Our team is certified and thanks to our years of experience with Armstrong products, we have the knowledge and experience to advise you on diagnosis and repairs, as well as provide quality installation and replacement services. With quality service and a reliable furnace, you can keep your McLennan County home comfortable year-round.
Schedule Repair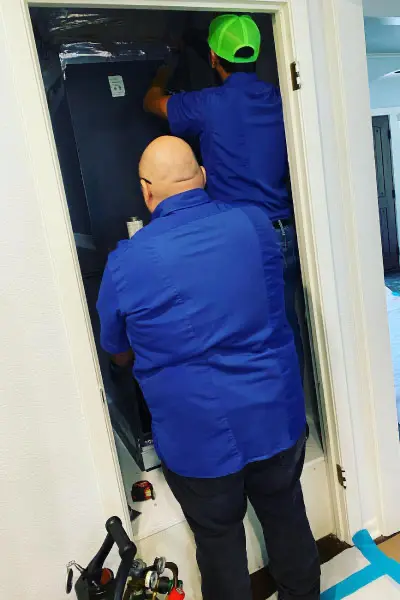 Four Signs Your
Older Furnace

Needs To Be Replaced
Frequent Repairs: If it feels like you're constantly calling HVAC service providers to get repairs done on your furnace, that's a sign it may be time for a replacement. When furnace repairs become a constant issue in your home or office, call our team at Centroplex. We can help — our team of certified technicians can take care of any Armstrong replacement or installation in the Waco area.
Uneven Temperatures: If you notice the rooms in your home or office aren't receiving an even amount of heat from your furnace, that's a sign that it's time to start thinking about a system replacement. As your furnace gets older, it becomes harder for your unit to push out warm air. If the problem persists, it's time to call your Centroplex team for a replacement.
Unusually High Energy Bills: : If your last Waco winter came with extremely high energy bills that aren't the norm for your Central Texas home or office, that's a sign that your older furnace may need to be replaced. High energy bills usually point to low efficiency and significant problems with the unit. Our team at Centroplex can help diagnose and repair, or replace your furnace entirely.
Furnace Has Visible Damage: If your furnace has visible, physical damage like cracks or rust, that's a sure sign that your furnace needs to be replaced. This can happen over time as your furnace ages, but it can affect the functionality and safety of your unit. Give us a call at Centroplex to start the replacement process today.
Financing Options
Available
---
At Centroplex, we want to help our Waco and McLennan County neighbors stay cool and comfortable year-round. And we understand that repairs, replacements, and installations on your HVAC systems can be a strain on your home or company budget. Ask us about financing options for your furnace replacement or installation in Waco, Texas today!
Apply For Financing