Need An
Air Conditioner Replacement

in Waco?
---
If you're looking for air conditioner replacement or installation services in Waco, Texas, then Centroplex is excited to be your first call. Our team of certified service pros can help with any installation, replacement, or service job around Central Texas, specializing in Armstrong brand HVAC units. We are committed to providing our neighbors in McLennan County with comfort and satisfaction, so you can trust that when you call us for air conditioner replacement and installation, the job will be done right.
Schedule Repair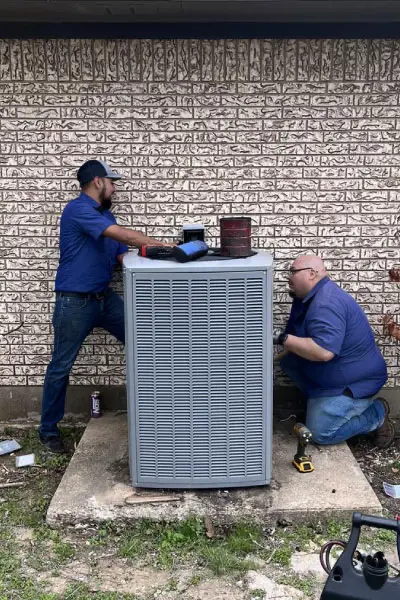 Join our AC
Maintenance Plan
---
Texcellent Heating and Cooling is your Greater Houston area AC service pro. Our maintenance plan will help keep your air conditioner running well for years to come. With our plan, you'll get an annual AC check-up that includes changing air filters, checking Freon levels, inspecting wiring, and looking for any other signs of problems. We'll also provide a tune-up to ensure that your AC is running at its peak efficiency and providing you with the most comfortable indoor temperature possible.
With our maintenance plan, you can rest assured that your AC is in good hands. We're experts in the AC service field, and we're dedicated to keeping your system running efficiently and reliably all year round. Join our maintenance plan today and get the peace of mind you deserve.
Contact Us
Four Signs Your
Air Conditioner

Needs To Be Replaced

When spring, summer, and early fall bring heat and humidity to your Central Texas home or office, you'll want to know that your A/C system is functioning properly so you can stay cool all season long. When your air conditioner isn't being maintained regularly and has frequent problems popping up, that usually means a replacement may be right around the corner. Not sure if you need to start thinking about replacing your air conditioning system? Here are four signs it's time to call our team at Centroplex for an A/C replacement:
Air Conditioner Isn't Responding To Thermostat: If your air conditioner's thermostat isn't working properly, you may notice that certain rooms aren't being cooled, or that the whole space is having comfort issues. When your A/C isn't responding to your thermostat, that's a clear indication that your system needs to be seen by a Centroplex professional. We can diagnose the problem and install a replacement air conditioner in your Waco home or office with our NATE-certified team of professionals.
Unusual Sounds or Smells: When you start your air conditioner for the first time in a season, it can make a little bit of noise starting back up. But if you start to hear consistent, unusual noises while the unit is running, or you notice strange odors coming from your A/C, it's time to get your system checked right away. This is often a sign that your air conditioner needs to be replaced — Centroplex can help.
Airflow From Your A/C Isn't Quite Right: Maintaining consistent airflow is a major part of your air conditioner's functionality. If you notice that the airflow seems too low or too high, that's usually a sign your unit needs to be looked at by a Centroplex professional, and maybe replaced. Luckily, Centroplex specializes in air conditioner replacement and installation throughout the Waco and McLennan County areas, so we can help.
High Energy Bills: Finally, a big sign that there's something wrong with your HVAC system is higher energy bills. If your energy bills are increasing at an unusual rate, that's usually a sign your air conditioning system is in disrepair and may need to be replaced soon. At Centroplex, we can help an A/C replacement fast, simple, and affordable.
Overall, getting your air conditioner tuned up at least once a year is a great way to keep your home comfortable and avoid costly repairs or replacements.